A perfectly composed home restoration
A flooded cellar, water leaking from the ceiling and a total renovation mid-COVID – here's how one family survived a litany of disasters to create a beautifully-restored 1870s masterpiece.
It's hard to fathom the run of bad luck experienced by Melinda Parent, her husband Professor Graeme Koehne AO and their son Willem, 13.
It all began at the end of 2019 when, unbeknown to the family, water from a neighbouring property was seeping into the cellar of their North Adelaide home.
"We don't ever go down to the cellar and it was only by chance that we discovered the water," Melinda says. "It was like a swimming pool down there; we were shin deep in water.
"We just had no idea it was happening. It had been slowly seeping into the house obviously for quite some time."
The insurers were called in, as were several pumps and six huge dehumidifiers, which were placed in the hallway and cellar in an attempt to dry everything out over three months.
"The water had seeped right under the house, so the builders were concerned about the possibility of widespread mould," Melinda says.
To escape the mess and noise, the family decided to stay at their Aldinga beach house for a few days in January this year.
Fortuitously, Willem decided he wanted the family to head home earlier than expected.
"Thank God he did because, when we got home, we discovered a water pipe underneath the bath upstairs had burst," Melinda says.
"It seemed to be raining through our kitchen ceiling, water was pouring through the light fittings and cascading down the walls into the downstairs living areas and kitchen. This was totally unrelated to the cellar incident. We just couldn't believe it.
"The kitchen island bench was completely warped, the parquetry floor had lifted and our beautiful Khai Liew furniture in the living room was damaged from the water spray. Luckily, the furniture was restorable, otherwise we would have lost it all."
There was one other stroke of luck. The couple's prized art collection was also undamaged, including works by Andy Warhol, Ellsworth Kelly, Donald Judd, Bill Henson, Rosemary Laing, Robert Longo, Deborah Paauwe and Russian photo artists AES+F.
"Had we stayed away a third night at Aldinga we would have lost everything, all of which would be irreplaceable," Melinda says.
The family's much-loved grand piano also escaped water damage. Melinda's father, piano designer and restorer Lucien Parent, chose the piano, which Melinda bought as a surprise for Graeme, who is a composer and the Director of the Elder Conservatorium of Music.
"This piano has so many memories and I love that my dad chose it for us" Melinda says. "Dad used to say that pianos are like people, different personalities, different traits.
"It's a very unique sounding and beautiful instrument. We all play it, and Dad spent his twilight days playing our piano on his Sunday visits from a nursing home where he was being cared for. Dad was unfortunately diagnosed with Alzheimer's the week that Willem was born. The only thing Dad was still able to do was play the piano and he played all the loud emotional classics, Liszt, Chopin, Schumann, Grieg."
The grand piano, along with everything else in the house, now had to be packed up and protected, as the builders insisted the family should move out entirely due to safety concerns over mould spores in the air. Melinda and Graeme then decided to use the opportunity to complete a total restoration of their home.
The timing could not have been worse; it was April 2020, the peak of the COVID-19 lockdown.
Melinda and Graeme decided against having a team of people coming into their home to pack their personal possessions. Being collectors, there were literally hundreds of pieces of Chinese antiquities, dinner services, Georgian glass collections, Dutch tiles and porcelain, and Melinda had three generations of family photos hanging on the walls.
"We spent three full weeks packing up 20 years of our lives, in between homeschooling, keeping my business going and Graeme working via Zoom. It was very much a nightmare," says Melinda, a former model who now runs her own advertising and brand design company, Oranje Creative, in the East End.
"Willem's beautiful cousin, and my studio and social media manager Gigi Koehne, an all-round super-organiser, came in to help save the day. Everything had to be stored on site. Gigi masterfully hand wrapped every piece — she is definitely someone Marie Kondo needs to watch."
On the positive side, the couple decided to use the opportunity to address all those maintenance issues that come with owning an old home, such as fixing the salt damp and replacing the delaminating slate on the front verandah.
With no rental homes available during COVID, the family moved into their beach house full time. While it was a good option, it was not ideal given the commute for everyone, particularly Willem who attends school in Walkerville.
"But we worked together and found positive ways to get through it," Melinda says. "During the three-hour daily car trip, we occupied ourselves with different activities or listened to music or Willem did his year seven personal project in the back seat. We actually achieved more in many ways during our commute. I did all the driving and activity directing.
"Willem also plays the cello and he managed to do his AMEB exam even though the entire year his lessons were via Zoom, which is not great for performance.
"Looking back, I have no idea how we did it. I guess we understood it was just something we had to get through. After five months, it was really starting to get to us. But I kept thinking, we're in Adelaide, we're safe and our government is looking after us well. My cousins in Amsterdam were doing it really tough at the time and that put everything into perspective."
Melinda was juggling her work while project managing the major restoration and repair of the five-bedroom, heritage-listed home, which was built in 1870.
As with most renovations, there were delays and setbacks, and the enormity of the job became clear as the months passed.
Melinda, who has researched much of the history of the home, was desperate to salvage the original Baltic pine floorboards in the downstairs music and lounge rooms. However, she was told they had to be removed due to the risk of mould spores possibly lining the underside of the boards. The builders also removed 30 centimetres of soil beneath the floor.
"But I did manage to save all the handmade nails from the boards and I gave them to our neighbour George Hobbs, who is with the National Trust of South Australia," Melinda says. "The builders also found handmade peg toys in the soil under the kitchen. My uncle Ashley Ekins (ex-Head, Official History Unit at the Australian War Memorial) said they were British Military Guardsmen peg toys from around 1840."
Eventually, as the months of disruption took a toll, the family became more desperate to get back into their home. They ended up moving back in, despite the downstairs area still having no floor and being completely unlivable.
"We were basically squatting in our own home," Melinda says. "We slept upstairs and that was about it. We had the bedrooms and the bathroom, but no lights, no hot water in one bathroom, no kitchen, living areas or yard and there were workmen there constantly."
Five months later, the house gradually started to come together, with the first major milestone being the herringbone floor in an engineered European oak.
"Although we lost our heritage floorboards, our herringbone flooring is really beautiful," Melinda says. "It took quite some time to find boards with the length, colour, finish and overall quality that we were after. I eventually found a product that came out of Melbourne, during COVID, from Kustom Timber."
Melinda, who has a double degree in music, plus degrees in business and graphic design, created the tile pattern on the front verandah herself. She chose handmade tiles from a French company called Winckelmann and says this is one of her favourite elements of the home.
"The verandah is now finished properly with materials and design to suit the heritage of the house, the frontage is a deco adaption from Victorian," she says. "Previously it had slate, which was lifting and powdering. The verandah has never had the right treatment, not since a previous owner of this house, Mrs Nottle, completed her renovation in 1925. We researched and found archived floor plans of our house at the State Library. It was fascinating to see her vision in the 1920s."
Setting off the stylish verandah is the landscaping, which was completed by John Leathart Landscapes, who Graeme has collaborated with before, but in a different capacity.
"John and his beautiful wife Rachael were Principal Dancers with Leigh Warren & Dancers," Melinda says. "They were the leads in Graeme's ballet Quiver, and now run their successful landscaping business, so we were thrilled to be able to work together to recreate our outdoor areas."
Another lovely symbiotic element of the project came through the spectacular bespoke kitchen, which was designed by a friend of the couple, Michael Snowden. The talented craftsman usually spends his days making musical instruments, including 15 years working in London.
"We have known Michael's family for many years," Melinda says. "His sister, Joanna Lewis, is a violinist and leads a well-known quartet in Vienna called the Koehne Quartet, named after Graeme. The Koehne Quartet has performed throughout Europe for the past 30 years.
"Michael and Joanna's mum is Betty Lewis, an art historian and writer. We've seen the beautiful instruments that Michael's handcrafted over the years and then we were really impressed to discover he'd actually designed a kitchen for his mum. He designed it, built it and flat-packed it to send to Melbourne for Betty and her husband David Mollison.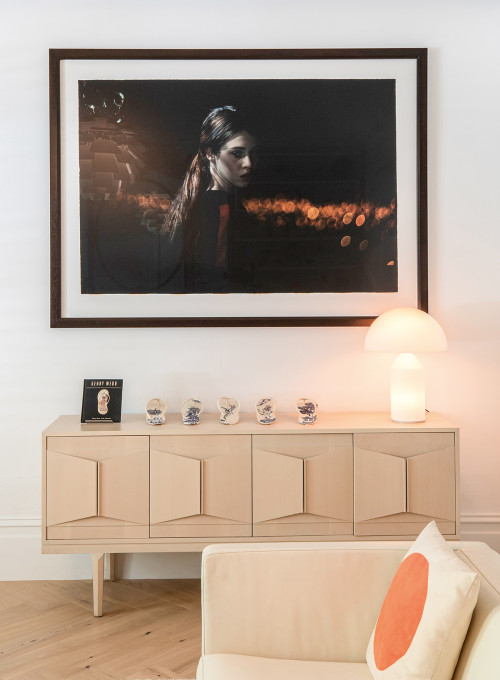 "Our kitchen is an adaptation of Michael's design and a kitchen we discovered in a Paris apartment by a Dutch architectural firm."
Minimalist in design, the kitchen has appliances and storage space concealed behind sliding cabinet doors. The sliding doors are designed to blend seamlessly with the existing kitchen panelling.
"The pocket doors are very carefully articulated and manufactured with very fine tolerances," Melinda says. "Michael made test doors to ensure the mechanics were perfect."
The ultra-thin island bench completes the kitchen's slick design, as does the cuboid Miele extraction fan above.
"I love the transparency of this kitchen," Melinda says. "The minimalist profile of our bench forms an optical illusion hiding the induction top it contains. When viewed from certain angles the bench almost appears invisible. Then the actual 'functioning kitchen' is also hidden behind the large sliding cabinet doors."
The kitchen bench was fabricated locally from a single piece of folded steel. In spite of its considerable weight (400 kilograms) it presents as light and minimal in the space.
Melinda says she and Michael Snowden collaborated in two ways: he designed and built the kitchen, while Melinda came up with a brand design and naming for his new business Wood & Strings, instrument-making courses for violin, guitar, cello and viola.
"We are so thrilled with the kitchen and know how lucky we are that it was designed by a true craftsman like Michael," Melinda says.
Transforming their home has been a labour of love for Melinda and Graeme, who bought the stunning property in 2002, having admired it from afar for many years.
"We were living in Stanley Street nearby in a cottage, then we moved into a villa and when this house came onto the market around that time, there was no way we could afford it. I was just coming out of modelling and studying," Melinda says.
"Then the house came back on the market a few years later and we went for it. We were up against two other interested parties and the owners were looking for the best of three prices. I chose a number and we were successful by $500. It was a big expense and meant a hefty mortgage.
"Graeme actually thought we'd be putting the house back on the market within 12 months. However, I had started my own business by then, so things were a lot different for us.
"We remembered advice from an old Sydney friend who once said to us, 'You won't get anywhere in life unless you take risks'. We're both glad we listened to our friend's advice, but we have also invested lots of hours and lots of love into this house since then."
Melinda's fascination with the history of the beautiful home means she knows its story intimately and says there is a "chequered" past.
"I love the conversations that must have taken place and the history behind our house; imagining the lives and times these walls have witnessed," she says.
"Suffragette Mary Lee lived and died in our house, [Australian physician and author] Dr Helen Caldicott also lived here, and there were also periods when it was a Bushman's Club — a refuge in the city for destitute shearers and stockmen. The house even functioned as an ashram in the '70s."
Today, it is clear that every decision around the renovation of this spectacular home has been made with careful consideration, staying true to the history while adapting to modern living.
And while the final result is a tribute to style and designer detail, the real beauty lies in the individuality of each interior choice and the meaning attached to every loved piece of the puzzle.
"There's a Dutch word, gezellig, which has no English equivalent, but it basically means an overall feeling of contentment, but it can also be translated as cosy or inviting," Melinda says.
"This is how our house has always been to us, it has always had the feeling of gezellig, filled with family and friends creating a very special atmosphere.
"Every year we have a traditional European Christmas Eve dinner attended by friends and family, and our dining room is at capacity with around 25 people. It's an institution and I love it. I love having our family and friends here and I love creating memories for Willem.
"I also love that our house is back to having that indescribable feeling of contentment.
"In the final analysis, after all the repairs and renovations, we achieved our ideal blend of modernism and classicism, aesthetics and practicality. Our house was completely stripped back to its foundations and we were able to renovate without constraints.
"We're very happy with the end result and now we just want to move on and enjoy it."
This story first appeared in the Dec 2020/Jan 2021 issue of SALIFE magazine.